Hi Everyone,
Someone asked me within the last few weeks when on earth I was going to update the book list.
Indeed! She is right. It was pitifully out of date.
But, it's not outdated any longer because I updated the interior design books today!
Now, if you don't see your favorite interior design book, please let me know, and I'll be happy to take a look. It is easy to add to the widgets. And, I can change the headline too. This post is going to live on the top menu, which is currently The Holiday Shop. Sometimes it's the Outdoor Furnishings menu item.
The reality is there are hundreds if not thousands of wonderful interior design books.
Have I read all of these decorating and gardening books?
Ummm…
No. However, I looked at the reviews, and I'm also going on reputation.
The easiest way for me to do this is through a widget, by the way. If you can't see the interior design books in the widgets, it's because you're on your mobile device and your ad blocker is turned on. If you switch that off, they'll magically appear.
Since there are so many, I've broken them up into five widgets instead of making one insanely long widget for the best interior design books.
Although there are some designers who straddle categories, I think it'll be helpful if you're looking for a particular designer, style, or area of interest.
Bunny Mellon's incredible townhouse in New York City. So beautiful!
The first grouping for best interior design books are the old guard of the design world. This doesn't necessarily mean that they are old. Sadly, some are no longer with us. And, one or two are still quite young. However, they were born to come from an interior design dynasty.
Alexa Hampton is one of those. Above, from her beautiful home in New York City.
Grouping number two for best interior design books are the classical designers of today.
Exquisite room by Darryl Carter
This is probably the broadest group and includes many favorites that I feature on the blog, such as Darryl Carter, Gil Schafer, Mark D. Sikes, and Steven Gambrel.
Fantastic architectural drawing by Ben Pentreath.
The third group are mostly our mates across the pond, but not all. Some American designers have an old-world aesthetic.
Photo – Rachel Whyte – Magnolia Home before and after.
Next up are the young and stylish designers with a more modern or, let's say, contemporary aesthetic. But, most of them are classically influenced or do a mix of trad and contemporary.
Incredible garden of Bunny Williams
The fifth and final group includes garden and interior design books by prolific authors Carolyne Roehm and Charlotte Moss, plus a few others.
I hope you enjoyed seeing the new book list and discovered some cool interior design books you didn't know about before. If you feel there are any glaring omissions, please let me know.
Well, it's officially December!
xo,
Okay, I know that Melissa worked very hard to update the HOT SALES page. Most of the sales are STILL going on. However, I don't know for how much longer. But, please check them out.
And, also there are some new things in the HOLIDAY SHOP since last Wednesday
.
And, speaking of the best interior design books, as most of you know, I'm running a promotion through December 30th, on my rockin' interior design guides.*
If you're not interested or already have them, you may be dismissed. ;]
Otherwise, please read on to find out how you can get two guides below for free.
The Best of Etsy 200 + Incredible Home Furnishings Sources
333 Difficult to Find Decorating Rules & Tips You Need to Know
Usually, they are $39 and $59 respectively.
Below is a brief description of each product and what you'll get if you order it.
The $39.00 one is the brand new 200 Best of Etsy Home Furnishings Sources. It's the culmination of dozens of hours of research. You won't get anything extra, but you'll get the updates for free, and you won't have to pay the higher price that's coming in January.
At $59.00 is 333 Decorating Rules & Tips You Need To Know – This is a terrific guide that's crammed with measurements and proportions you won't be able to find anywhere else. Well, I couldn't. If you order this, you will get the Etsy guide for free.
The rest of the products will get the guides above for FREE from now through December 31, 2021.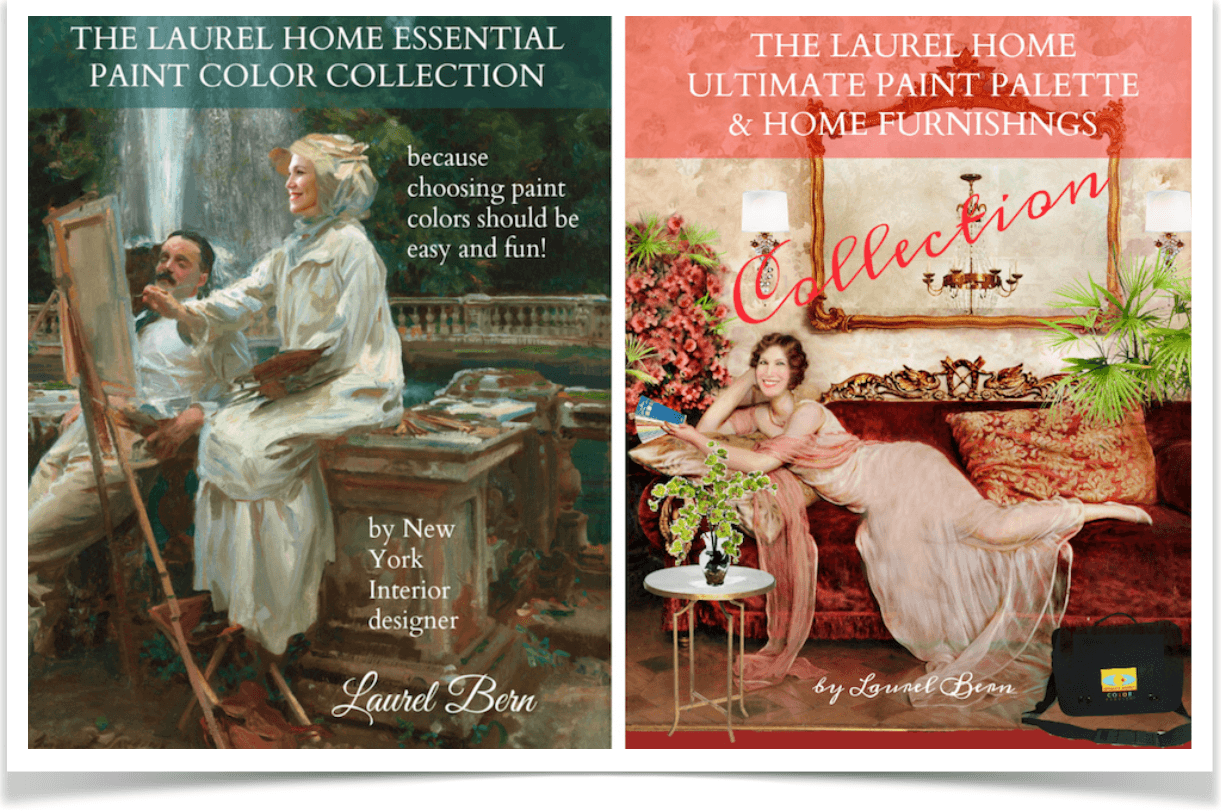 At $199.00 Are two products. The Laurel Home Essential Paint and Palette Collection. This is a 2-volume curated Benjamin Moore Collection. You can read about Part I here, the paint colors, and Part II here, the paint palettes. Part II is where you'll see a bunch of glowing testimonials. There are more, but how many do you need to read? lol
Also, at $199.00 and a guide, everyone has a website or is thinking about starting a website or making money on the internet or earning a living by working in bed, working in your PJs, and not taking a shower. (if you don't feel like it) This is the Six-Figure Income Blogger Guide.
But, don't let the word "blogger" trip you up.
You DO need a blog on your business website because a blog is what keeps your website fresh in Google's busy eyes and automatically raises your business above your competition that has a boring "dead" website.
And, no, you don't have to blog as much as I do.
However, once or twice a month is a must. But, there's also so much you don't know you don't know. I mean, I didn't. And, I was spinning my wheels, not getting anywhere for 19 months, because I made every mistake and then some. This guide will save you a lot of time and help you to create a more successful business.
In addition, you'll be able to read my entire internet story from Laurel the Luddite to Laurel, the world's most unlikely geekette. It's only a few pages, and I guarantee that you'll be laughing.
Finally, the crown jewel, but only because my name is in the guide's title. Haha And, it was the first guide I wrote way back in 2015.
But, you always get FREE lifetime updates, and it updates every November.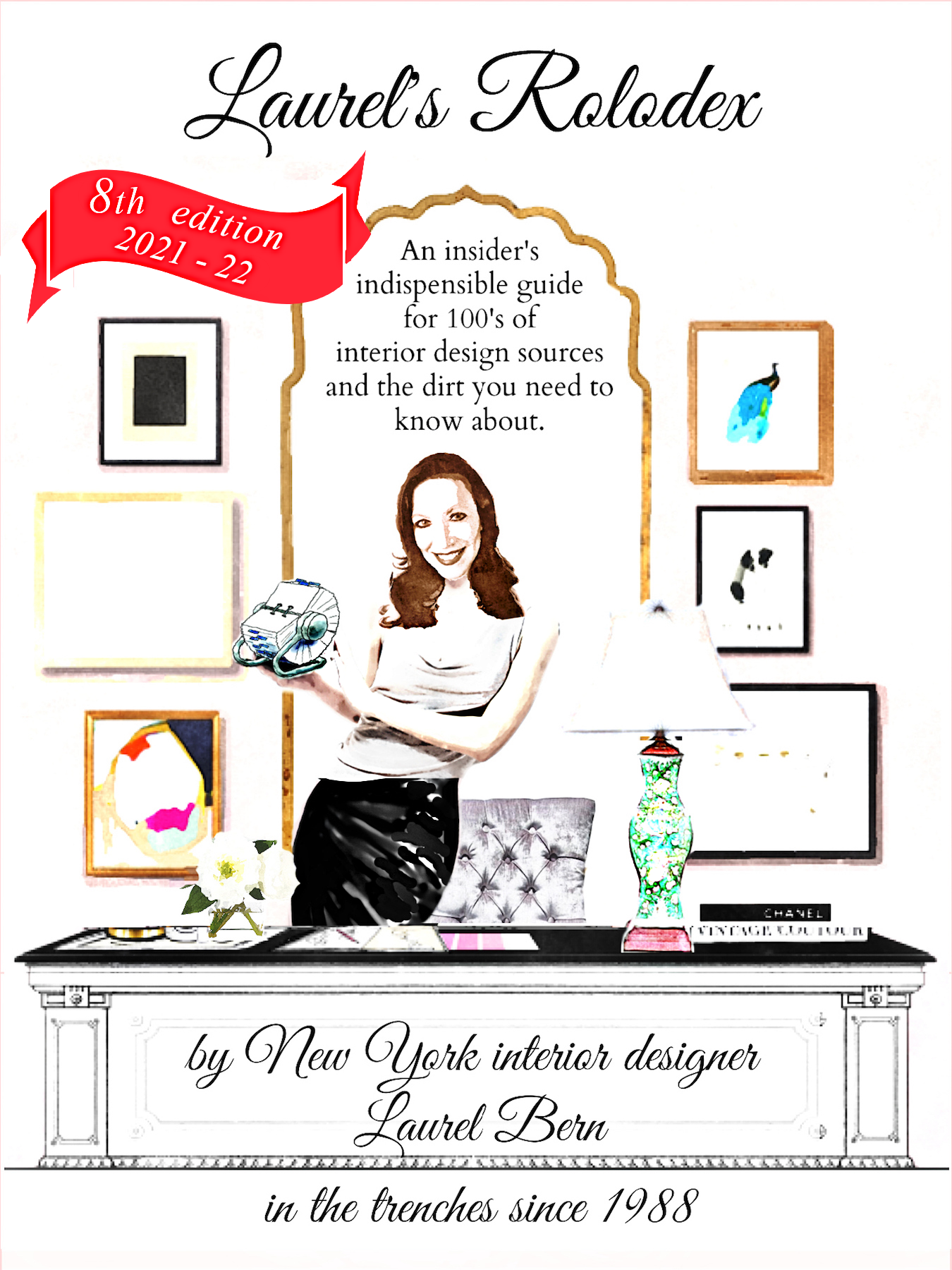 Laurel's Rolodex. Now in its 8th edition. This is where I spill ALL of my secret and not-so-secret sources. If you're in the interior design trade or want to be and you don't have this resource, I can pretty much guarantee that you're leaving money on the table—a LOT of money. Oh, and you're also probably charging your clients too much, too.
This will help prevent them (your clients) from the dreaded "shopping you," and most of the time help you come in at a LOWER price than most retailers, AND still make a nice profit. How does that sound? It took me over ten years in business to understand that it's not always necessary to use a middleman to get terrific furnishings for clients. Sometimes, yes, but not nearly as much as I was.
Also, GIFTING IS AVAILABLE!
Yes! Even if you're not interested, maybe someone on your gift list is.
How does it work?
It works super well! When you click on the link to place your order, you'll quickly see a gift box icon. Click on that, and it will prompt you to put in your recipient's name and email address. You'll then be asked what day and time you wish your gift to arrive. How cool is that!
Please go here to learn more about my rockin' guides. You will find links to give you more information, but they are the same links as here. When you are ready to order, please use the purchase products page because you will get your free guides. And, please remember that the offer for the free guides ends December 31, 2021. As stated, the prices for the free guides will be going up in January.
*Please note that these are digital downloads, and that way, you can get free updates when they come out.